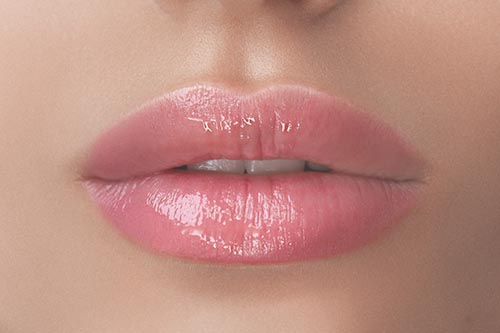 Permanent Lips

A permanent makeup lip treatment is perfect if you're fed up with your lipstick bleeding or smudging all the time, or if you are struggling to do the perfect lip line and make both the top and bottom lip lines even, etc. With the permanent lip procedure, you are ready to go and amaze everyone!

This treatment will prevent the need of having to worry about your lipstick all the time. It creates a really nice, efficient, and beautiful effect.
Your perfectly contoured lips will ensure that you look more rejuvenated and will also enhance the beauty of your face at any age, eliminating the needs for traditional and often extremely expensive cosmetics.
All treatments include: A free consultation, Full aftercare treatment, & A top-up appointment after 6 weeks.
4 Different Procedures for Permanent Lips
Procedures to Choose From …
Banbury Permanent Makeup offers a variety of procedures for permanent lips to suit your unique & individual requirements.
Full Lip
Colour
The best results and the ones that will give you naturally looking lips can be achieved by using this technique, which imitates the look of a real lipstick.
A Full Lip Colour pigment is applied evenly and built up over 3 sessions along the length of the entire lips. If you prefer a more glamour and shiny look, you can simply add your favourite lip gloss or lip stick on top.

Lip
Liner
The Lip Liner treatment is only perfect for those with nice full lips that have a natural colourful glow but still require a more defined shape. This procedure is also suitable to correct slightly asymmetrical lip lines.

By implanting colour pigment around the outer edges of your lips, the lip liner will be created.

Lip
Blush
The Lip Blush technique is perfect for women who need to re-define the shape of their lips and want a little bit of colour blended in to enhance them. The colour choices that are offered range from super soft lighter tones to the most vibrant shades.
The way that the procedure is carried out is by adding a lip liner and then fading out the colour towards the centre of your lips for a blush effect. This treatment will prevent the need of having a full lip procedure as the liner is blended into your natural lip colour and creates a really nice, efficient and beautiful effect.

Full Lip
Ombré
With Ombré Lips, the colour will look more intense around the outside corners of your lips, whereas the inner corners will be faded into a lighter shade along the middle of the lips.
Permanent Lips
Procedure

When you arrive for your procedure, the very first step is to take a 'Before' photo of your lips.

I will then use a lip liner to draw along your lip line in order to create a symmetrical shape.

We will discuss different colours and you have to find the best one that suits you so you are 100 % happy with it.

I will then ask you to fill in/sign consent forms before I commence the procedure of creating your new lips.

The time for completion of the procedure will entirely depend on the style you have chosen.

Once we have finished, I will apply aftercare cream on your lips and will take some 'After' photos.

After
Permanent
Lips Procedure
As opposed to the healing process for eyebrows and eyeliner treatments, the healing process for lips is slightly different.

After the lip procedure, the colour will look very bold and bright at first.

Ov

er the first 2-3 days, flaking will form. You must not pick, pull or rub those off at any stage, otherwise the pigment will come off!

Your lips will feel very dry, so you will have to apply a small amount of the aftercare cream to ensure a relaxed and properly healing of the lip area.

The colour will start fading once that the flaking has come away, as your lips heal under the skin and the actual colour pigment mixes with the blood. However, over the next 3-4 weeks, the colour will come back.

It is also important to know that your lips will feel very dry throughout this period. If you're prone to cold sores, you will have to use a treatment for 5 days prior to the procedure as well as after that for as long as needed. Please consult with your GP!

After the first treatment, it is absolutely normal for the colour to be patchy, which is why a second procedure is required between 6-8 weeks.
*If you've chosen a full colour, a third session may be required.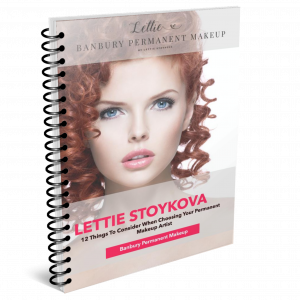 Download your FREE

guide on what you need to know before you let anyone permanently tattoo your face.
Enter your details below and press send to have the ebook instantly delivered to your email:
Danielle Video Testimonial
Martine Brows Correction Testimonial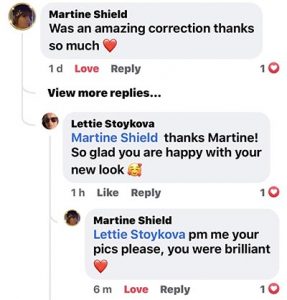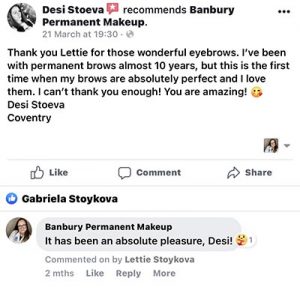 Kasieniax Brows Testimonial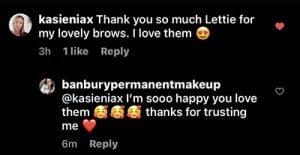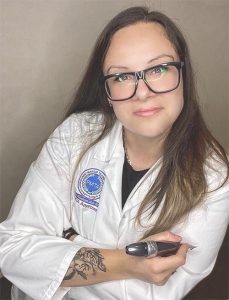 Lettie
Stoykova
Banbury Permanent Makeup Specialist

What To Do Next …
If You Would Like To Save So Much Time Doing Your Daily Makeup Routine
Then Call Lettie Now For A FREE No-Obligation Consultation on:
Tel
: 07737233167
(If the line is engaged or I am with another client then please leave a message and I'll get straight back to you as soon as I am free)
Or Simply Fill in Your Name & Email In the Form Below and I will contact you shortly …