Permanent
Eyebrows

Procedures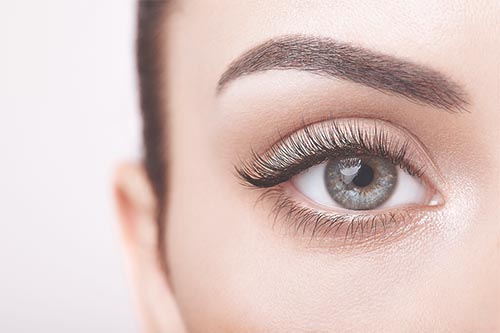 Banbury Permanent Makeup offers a number of different permanent eyebrow treatments to suit your unique beauty requirements.
Permanent Eyebrows
Frame Your Face
Permanent eyebrows are probably the most chosen permanent makeup treatment amongst women. The eyebrows are forming the frame of the face and they are crucial for the good look of every woman! Being symmetrical, the right colour and shape, and looking good, is of huge importance! Therefore, replacing the conventional eyebrow shaping and colouring with a permanent one is the best choice you can make.
To start with, this will ensure that you have the right colour of your eyebrows that matches your hair, skin and face. It will save you time from researching amongst thousands of different brands for eyebrow makeup and the annoying part of finding out that you didn't get the right colour, or product, or what you got actually looks very unreal, makes your eyebrows fall and leave bald places, etc.
Switching to the permanent makeup option for your eyebrows will also give you a lot of free time, saved from the daily routine of applying and shaping your eyebrows (something that not even turn up looking good always!). Also, going for permanent eyebrows makeup ensures your perfect look all day long without having to worry about smudging, or wiping them off.
The way that the permanent eyebrows makeup is done by a professional technician is by using a specialist machine, tools and equipment and colour pigments being applied into your top layer skin. There are different types of permanent makeup for eyebrows such as applying hair strokes (microblading), ombre brows or combination brows.
5 Different Types of Permanent Eyebrow Procedures

to Meet Your Unique Requirements …
Natural Hair Strokes:
Permanent Eyebrows – Microblading
The Natural Hair Strokes permanent brows procedure is ideal for those of you who want to achieve a natural look. By using a manual tool and implanting very fine strokes throughout the brows, the hair is being simulated. If there is no existing hair this technique is great for you. The illusion of natural hair can be achieved by creating brows that follow the natural directional hairline. This can be done by using a single colour or multiple colours for those with multi-tonal hair.
Powdered Brows:
Permanent Eyebrows –

Powdered Effect
The powdered effect is perfect for those of you who already have good natural brows but prefer them looking deeper and bolder. According to your personal preferences, the powder can be lightly or heavily shaded. Which ever option you choose, you can still rest assured that the eyebrows you get will look beautiful. By using this method, a more 3-dimensional looking brows can be achieved – similar to the result getting with makeup, however, with the powdered effect you get a smudge-proof outcome and brows that won't wash off in any case!
Designer Brows:
Permanent Eyebrows –
Ombré Brows
Indeed one of the most popular types of permanent eyebrows chosen amongst my clients is the amazing Ombré brows. Regardless of having or not having hair on the brows as well as of the skin type, this type of treatment is perfect and suitable for everyone! The Ombré brow is done by applying a stronger shading from the tail up to the arch followed by a gradual fading towards the brows bulb. In this way, a soft and gradual effect is obtained.

By heavily shading the brows on the tails, a defined look is given. And as the colour fades out when it gets to the fronts, a lovely soft finish is at hand.
Power Brows:
Permanent Eyebrows – Powdered Brows
If you want to get a strong and persistent colour throughout the entire brow, a heavier makeup look and better defined and framed eyes, then the Power Brow treatment is perfect for you!
This full-block colour brow can be done in all colours and once that it has healed, it will definitely not look too strong.

Combination Brows:
Permanent Eyebrows –
Microblading and Powdered Brows Combined
The combination brows treatment is a technique that is a mixture between powdered brows and microblading. A manual blade is used to simulate the hair growth followed by the machine that shades softly throughout the brows which is giving them a little more definition.
Permanent Eyebrow
Procedure
– A 'Before' photo is to be taken upon your arrival at my clinic.
-Your facial measurements will be taken and then used to draw on your new brow shape with a pencil. They will then be tweaked as needed to best suit you.
– Once that you are totally satisfied with your brow shape, the colour will be applied on top of your brows and will show you how it will look on your brows.
– Once that you are 100% happy with the shape and colour, you will be asked to fill in and sign consent forms before commencing the procedure.
– The time to complete the procedure entirely depends on the complexity of the style and type that you have chosen.
– Once that the brows are done, I will apply aftercare cream to soothe and enhance them and an 'After' photo will be then taken.
After
the Procedure
– It is important to know that in the duration of the first 2-3 days after the procedure, small scabs will be formed in the area of your brows. You should not pick/pull/rub the scabs off as this will result in pulling the pigment out!
– The aftercare cream should be applied to the area in order to soothe it, as the brows might feel a little bit tight and itchy in the beginning.
– Once that the scabs have come away in a natural way, the colour will look quite pink and faint but please do not worry, as it will intensify over the next 2 weeks.
– It is absolutely normal for the brows to be patchy in areas after the initial appointment, hence a top up procedure is required.
– The top up procedure is exactly the same as the initial one.
– Once that both the first and second (top up) procedures are complete, a colour boost will be required on every 1-2 years (depending on your skin type) so that your brows remain looking fresh and immaculate.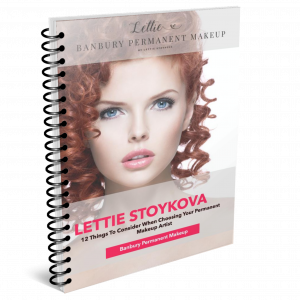 Download your FREE

guide on "12 Things To Consider When Choosing Your Permanent Makeup Artist."
Enter your details below and press send to have the ebook instantly delivered to your email: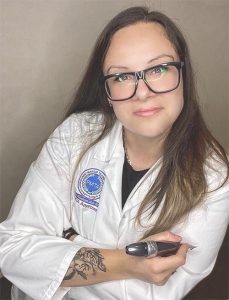 Lettie

Stoykova



Banbury Permanent Makeup Specialist

What To Do Next …
If You Would Like To Save So Much Time Doing Your Daily Makeup Routine
Then Call Lettie Now For A FREE No-Obligation Consultation on:
Tel
: 07737233167
(If the line is engaged or I am with another client then please leave a message and I'll get straight back to you as soon as I am free)
Or Simply Fill in Your Name & Email In the Form Below and I will contact you shortly …