Permanent
Eyeliner & Eyelash

Enhancements
Banbury Permanent Makeup offers a variety of different permanent eyeliner & eyelash treatments to suit your unique & individual requirements.
Permanent
Eyes
Applying a regular eyeliner, whether it will be a liquid one or a pencil one, can be really tricky, time-consuming, and least to say, annoying. We spend so much time trying to make our eyeliner looking fabulous to only end up often feeling dissatisfied with the final result. And let's face it, we can have years of experience, but still, find it difficult to make the eyeliner on both eyes looking exactly the same.
Choosing the right product can also be very effortful and it might still not ensure that we have got what is right for us (not to mention the awful part when we spent hours choosing a new eyeliner in the store and then we end up opening the purchased one at home to only find out that it is dry or not that bold and consistent as the one in the store!).
Also, applying conventional eyeliner can often irritate our eyes or even infect them as well as cause the appearance of various skin problems, such as wrinkles, millions, etc. (especially if we have made the mistake to sleep with the makeup). Therefore, what's to think about when having to decide whether to switch to a permanent eyeliner makeup choice?
You will certainly avoid all of the above plus you will save an awful lot of time, money, and effort. Enhancing the look of your eyes with professional permanent eyeliner makeup is a life-changer and will leave you looking good on a daily basis. It will make you smile every time you look in the mirror and will also ensure the compliments of others.
Another bonus – you will not have to spend any more time in the night to clean your makeup because with a permanent eyeliner you won't even need to put any eye shadows or mascara (yes, that is right, your eyes will look glamorously enough and you can skip the other makeup products!). You can choose between a permanent eyeliner, lash enchantment as well as a thin/medium eyeliner to best suit your needs and preferences.
All treatments include: A free consultation, Full aftercare treatment, & A top-up appointment after 6 weeks.
3 Different Permanent Eyeliner

Procedures to Choose From …
Eyelash
Enhancement
A subtle line that looks very natural and pretty will be perfectly placed along your natural lash line on top and/or bottom to darken the base of your lashes and enhance them. This will help you look natural, without the feeling and perception that you constantly have eyeliner on your eyes.

Thin
Permanent Eyeliner
A thin and distinguished line will be placed perfectly along your natural lash line on the top and/or bottom to define your eyes. For those of you who prefer to wear a more visible liner, this treatment is about right for you. The liner can be as thin or as thick as you would like and I can make what is suitable for you.
Thick
Permanent Eyeliner (top only)
A thick line will be perfectly placed along your top lash line to really define those eyes!
Eyeliner
Procedure

– A 'Before' photo is to be taken upon your arrival at my clinic.
-Your facial measurements will be taken and then used to draw on your new brow shape with an eyebrow pencil. They will then be tweaked as needed to best suit you.
– Once that you are totally satisfied with your brow shape, the colour will be applied on top of your brows and will show you how it will look on your brows.
– Once that you are 100% happy with the shape and colour, you will be asked to fill in and sign a consent form before commencing the procedure.
– The time to complete the procedure entirely depends on the complexity of the style and type that you have chosen.
– Once that the brows are done, I will apply aftercare cream to soothe and enhance them and an 'After' photo will be then taken.
After
Eyeliner Procedure

– It is important to know that in the duration of the first 2-3 days after the procedure, small scabs will be formed in the area of your brows. You should not pick/pull/rub the scabs off as this will result in pulling the pigment out!
– The aftercare cream should be applied to the area in order to soothe it, as the brows might feel a little bit tight and itchy in the beginning.
– Once that the scabs have come away in a natural way, the colour will look quite pink and faint but please do not worry, as it will intensify over the next 2 weeks.
– It is absolutely normal for the brows to be patchy in areas after the initial appointment, hence a top-up procedure is required.
– The top-up procedure is exactly the same as the initial one.
– Once that both the first and second (top up) procedures are complete, a colour boost will be required on every 1-2 years (depending on your skin type) so that your brows remain looking fresh and immaculate.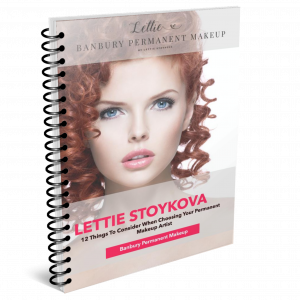 Download your FREE

guide on what you need to know before you let anyone permanently tattoo your face.
Enter your details below and press send to have the ebook instantly delivered to your email: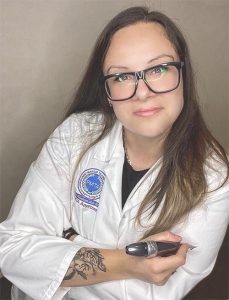 Lettie

Stoykova



Banbury Permanent Makeup Specialist

What To Do Next …
If You Would Like To Save So Much Time Doing Your Daily Makeup Routine
Then Call Lettie Now For A FREE No-Obligation Consultation on:
Tel
: 07737233167
(If the line is engaged or I am with another client then please leave a message and I'll get straight back to you as soon as I am free)
Or Simply Fill in Your Name & Email In the Form Below and I will contact you shortly …